This article was originally published by Visit Orlando on April 27, 2023.
As one of the top meetings destinations in the United States, Orlando understands that meeting planners and attendees expect their events to be held in environmentally-conscious locations. We take this responsibility to heart and have ongoing sustainability initiatives throughout the destination. In fact, Orlando has recently been ranked the Greenest City in Florida by Insurify and the Top Earth-Friendliest City in the U.S. by Parade Magazine.
So, whether you need a green meeting venue, sustainable activities, or peace of mind knowing you're choosing an eco-responsible city, read on to discover more about Orlando's Earth-friendly nature.
Green venues
Some of Orlando's meeting venues are helping to lead the way to a greener tomorrow.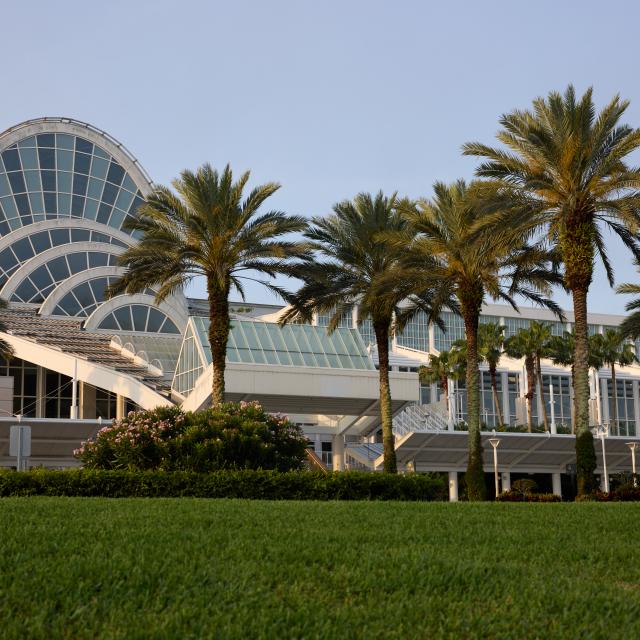 Orange County Convention Center
Orange County Convention Center
In partnership with the Orlando Utilities Commission, the Orange County Convention Center (OCCC) is committed to sustainability with its "Orange to Green" campaign. The implementation of its one-megawatt rooftop solar photovoltaic (PV) system — the largest one in the southeastern United States — and its recycling efforts helped the OCCC become the first U.S. convention center to receive the EMS (environmental management services) ISO 14001 Certification.
The PV system utilizes high-efficiency flat-plate collectors and occupies approximately 200,000 square feet (60,960 square meters) of roof space on the North/South Building. Other green initiatives include purchasing recycled products, using reclaimed water for landscaping irrigation, installing xeriscape plantings, using Green Seal-certified cleaning products, and installing waterless urinals and low-flow faucets. In addition to its facility-related green initiatives, the OCCC works closely with event organizers to support their efforts for green events.
Amway Center
A great venue for sports-related group outings, the Amway Center, part of downtown Orlando's Parramore District, is the first NBA facility to earn a Leadership in Energy and Environmental Design (LEED) new construction certification from the U.S. Green Building Council. Home to the Orlando Magic, Orlando Solar Bears and Orlando Predators, and host to a wide range of concerts and special events, the venue uses 20% less energy and 40% less water than arenas of similar size.
The Amway Center's eco-friendly features include preferred parking for hybrids and other energy-efficient vehicles, high-efficiency heating and cooling systems, ultra-low-flow toilets, a reflective and insulated roof that reduces cooling costs, high-tech monitoring systems that shut off the lights when a room is empty, bicycle racks, showers and changing rooms for workers who bike to work, systems to treat storm runoff before it can pollute nearby lakes, and recycling bins for fans and concertgoers.
Green transportation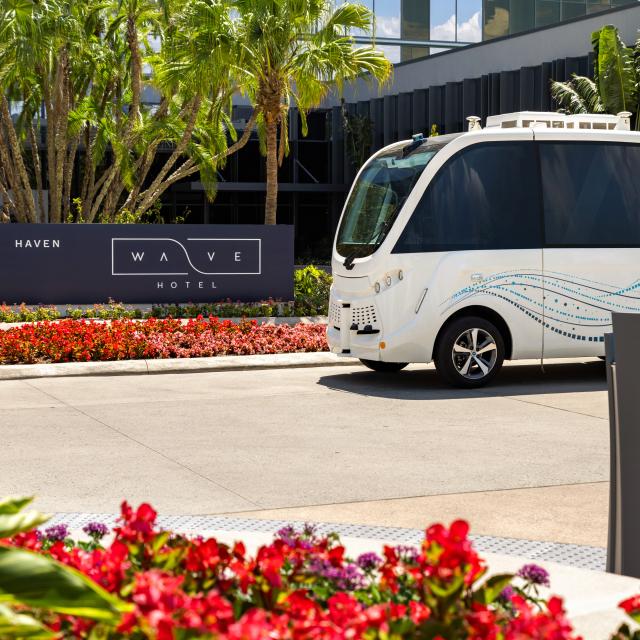 Beep Autonomous Shuttle in Orlando's Lake Nona Community (Lake Nona Wave Hotel)
Orlando is at the forefront of testing autonomous vehicles and piloting new projects with businesses headquartered in the region. The destination is an ideal place to test autonomous vehicles because it provides a range of weather conditions, it's home to many tech universities that provide talent, and the state of Florida has favorable regulation for self-driving cars. No wonder we're home to Luminar, which designs lasers and sensors for self-driving cars to navigate roads. Also of note, the SunTrax test facility is a 2.25-mile track designed to test high-speed travel.
Orange County was awarded a $20 million grant to create Local Alternative Mobility Network (LAMN) in Tavistock Group's Lake Nona community in the City of Orlando. The BUILD grant is going toward creating new and modifying existing infrastructure in Lake Nona, including multi-modal corridors with autonomous vehicle lanes, bicycle and pedestrian pathways, an integrated and multi-use mobility hub, and support for autonomous vehicles (AV), which have already been deployed as the Beep shuttle service.
In 2019, our first driverless shuttle bus was launched, with interest to expand through downtown Orlando and the tourism corridor to help efficiently move people throughout the community. Central Florida was also deemed an autonomous vehicle proving ground by the U.S. Department of Transportation.
Fuel efficiency has added meaning in Orlando thanks to these programs and milestones.
Central Florida Regional Transportation Authority, which operates LYNX public-transportation services, became the first transit agency in the nation to produce and implement biodiesel blending for its entire fleet in 2010.
Florida's first hydrogen energy station is in Orlando. A result of a collaborative effort between the State of Florida, Ford Motor Company, ChevronTexaco and Progress Energy, it fuels eight hydrogen-powered shuttles that transport visitors at Orlando International Airport.
The Orlando area is home to more than 300 government, academic and corporate entities working on alternative fuels, including the Central Florida Clean Air Team, a group striving to improve air quality in the metropolitan area through initiatives like advocating for the use of alternative fuels.


Green shopping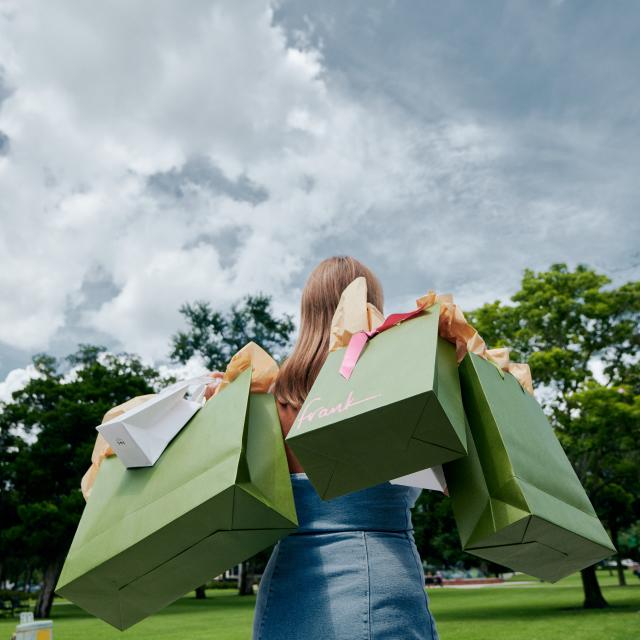 Originally published Oct 10, 2023 11:24:57 AM
Last updated on Oct 12, 2023 10:10:31 AM
Read more from BCD Meetings & Events: